10 Lessons from 100 Days of No Code
The Art of Learning, Building in Public and Sharing
10 Lessons from 100 Days of No Code
Hi everyone,
Welcome to this issue of One to Better, a newsletter about building ideas and finishing what you start through consistent daily habits.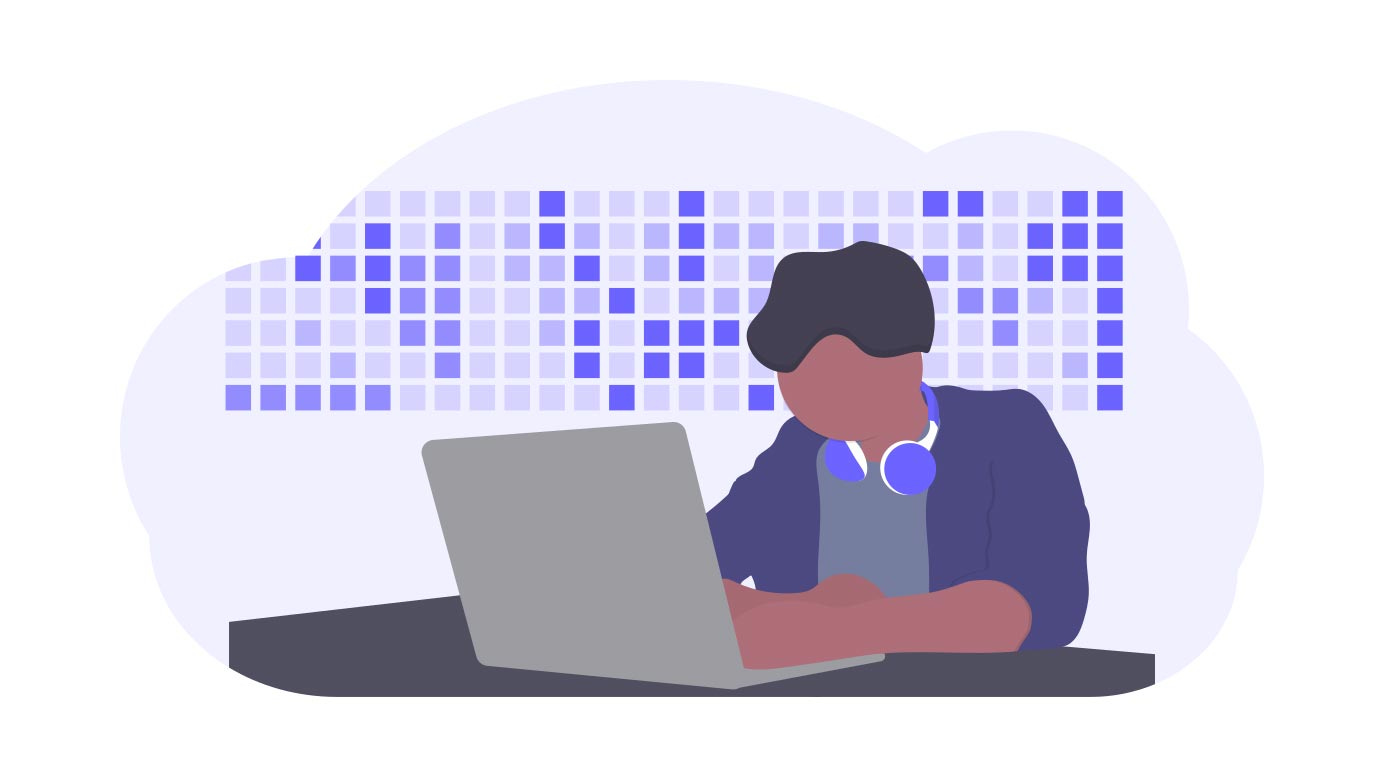 This week I thought I'd share a few things I learned completing the #100DaysOfNoCode challenge.
No-code is the new term for visual development tools for building digital products without writing code.
I had two primary goals in mind taking the #100DaysOfNoCode challenge;
Deep dive into the range of No-Code tools available.
Build better daily creative habits. 
I tested about 25 different #NoCode tools and built a few sites to include;
thomasalansmilie.com - Built in about 45 minutes with Carrd

thomasalanmobile.carrd.co - Built entirely on an iPhone with Carrd as an experiment.

This Substack newsletter, which is the beginning of onetobetter.com
I've built better daily creative habits, but I've while I made progress, I know there's still much to learn and room for growth.
Below is a chart of the many no-code tools I tested over the past few months.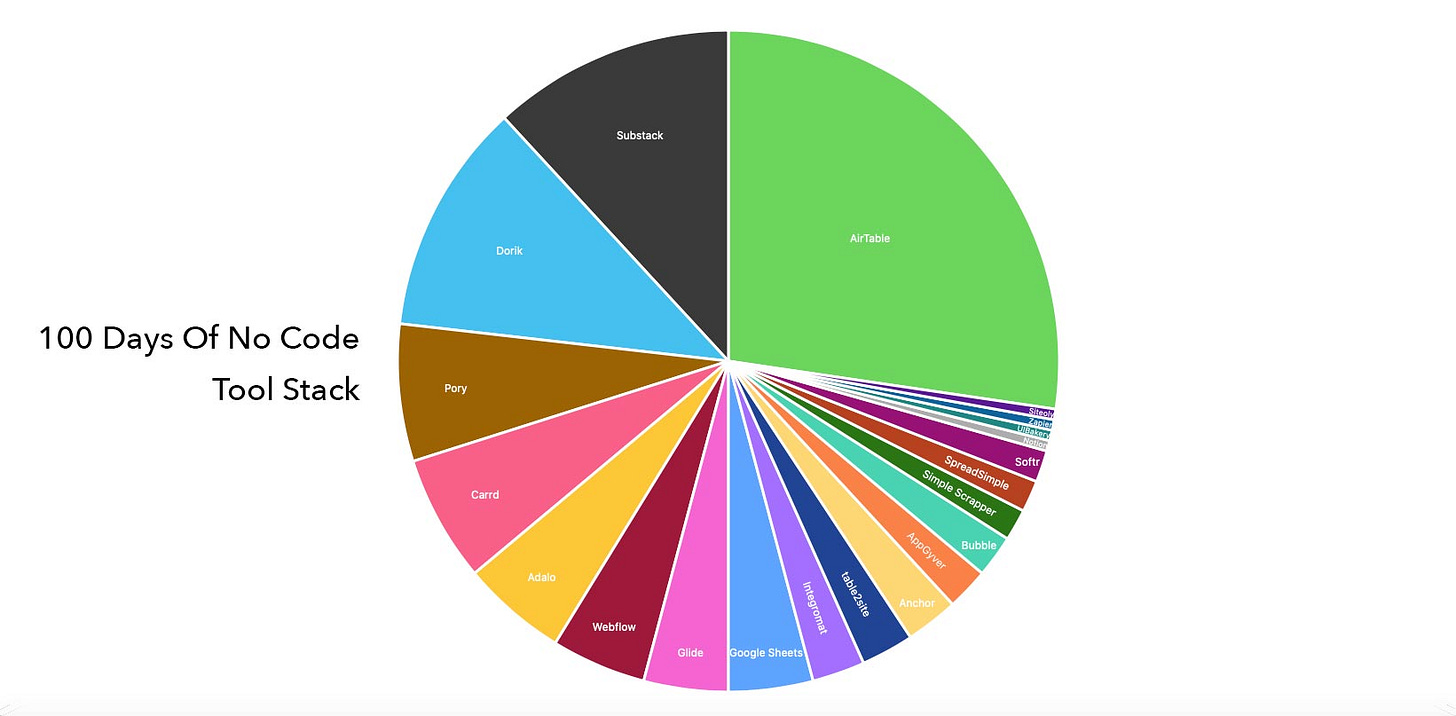 10 Key Takeaways from the Challenge
Structure Matters
Creating a structure to use during the challenge will save you time and help you on the days you lack clarity or motivation, and if you are like most creatives, there will be days like that. I made an AirTable base to track each day, the tools I used, and a link to the Twitter post for that day. Any tool will work though, spreadsheets, AirTable, or whatever you prefer. It's just important to know where you're at and an idea of what to work on that day.
"Most people think they lack motivation when they really lack clarity." –James Clear
Creating structure, in the beginning, helps with the needed clarity.
Templates Are Your Friend
Don't hesitate to use templates to get you started, or even to modify and ship. Time is money, and you don't need to reinvent the wheel unless you are a designer and are trying to show off your design skills. I used templates from Dorik.io in combination with Pory.io and AirTable to design whynocode.com. All I did was write the copy and tweak the templates to work.
Use Time Chunking or The Pomodoro Technique
There are so many shiny objects in the no-code world. It can be hard to not be distracted. I've struggled with focus most of my life, so I use apps to help me focus when it's time to get work done. A few years ago, I discovered a method of breaking up work into smaller segments, called Time Chunking or The Pomodoro Technique this one if you're more visual like me. I have found these methods very effective.
Learn Automations
Automations are a vital piece of the no-code puzzle. Tools like Zapier, Intergromat, and Parabola enable us to take things to the next level by automating repetitive tasks, reducing errors, and sharing information. Some makers decide to specialize in this area.
Mobile, Mobile, Mobile
The number of people with smartphones or tablets has far surpassed traditional computers like laptops or desktops. The Apple ecosystem, for example, is about 85% iPhone and iPad. For many, a smartphone or tablet is their only computer, and this gap will only widen over the next five to ten years as mobile technology grows and more people worldwide come online.
Delight users with a product that "just works" regardless of what device they are viewing it on.
Take the time to test everything you make on multiple platforms and devices. Delight users with a product that "just works" regardless of what device they are viewing it on. There's nothing more disheartening than getting a message "we're sorry, a insert platform or browser is required to view this content" or whatever sad message it is. Remember, delight users.
The Art Of MVP
Minimal Viable Product, or MVP, is an art, the art of knowing when your product has the minimum features required to launch and start letting customers use it. I say it's an art because each situation is different. The challenge for makers is to know when MVP is reached. Spoiler alert: it's way before you think it is.
Share Everything
It can be scary to show others online what your building, as you're building it, but the benefits far outweigh the fear. Building in public #buildinpublic is quickly becoming the perfect feedback loop.
Do Something
Build something, make an automation, write a post, or Twitter thread on something you learned. Reading or "researching" is easy, and easy may check the box for that day, but you're only cheating yourself. To get the most from the 100 days of no-code challenge, you have to force yourself to do something that shows progress. Learn something, build something, and then share it.
Support Others
Never think you're the only one who's struggling or unsure how to do something or what to do. Everyone has those days, regardless of experience. It's a part of the creative process. Share what you're learning, building, and struggling with. Sharing can help more than you know, and it fosters engagement with others in the community.
Sharing, or building in public, is the fastest way to learning and growth.
We learn best when we work together, and one of the best things about participating in the #100DaysOfNoCode challenge is the community. The creator of the challenge, Max Haining @HainingMax is awesome and always supportive.
So take the leap and join the challenge. You'll gain new skills, it'll boost your confidence, and you'll meet cool new people who are learning every day just like you.
Also, feel free to reach out to me on Twitter @tasmilie if you have questions.
Cheers and be safe. ✌️