The 7 Day Affiliate Project
Launching an Affiliate Store with Pory in Seven Days
Hi everyone,
Welcome to issue #5 of One to Better, a newsletter about building ideas, productivity, and finishing what you start through consistent daily habits.
💡 Idea: Build An Amazon Affiliate Store
This week I thought I'd share how I built and launched thefacemasklist.com, an Amazon affiliate store with Pory in seven days, and a warning ⚠️ about Facebook ads.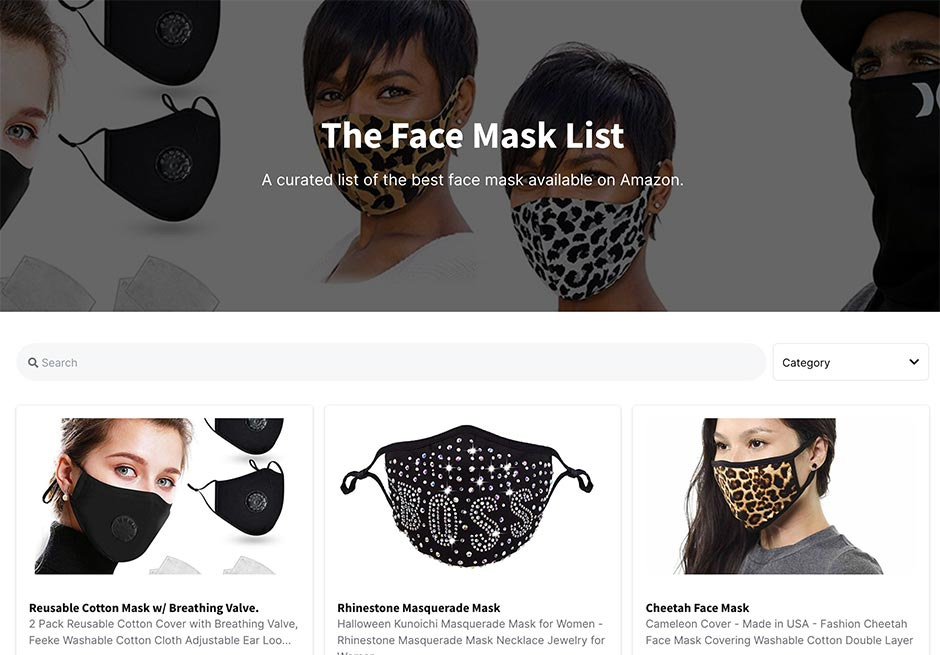 Affiliate marketing has been around for decades, beginning with PC Flowers & Gifts in 1989. Since then, with the arrival of websites like Amazon, making money from affiliate marketing has never been easier. This is a recount of how The Face Mask List project came to be.
⏰ Tuesday, September 29th
A couple of weeks ago, I was having a conversation with a co-worker about domain names and how easy it is to purchase one for your ideas. I turned to my computer and logged into my domain account, and as an example, I used facemaskworld.com, and I jokingly said that if this is available, I'll buy it. The .com was taken, but .co was available, so I bought it.
At the time, I wasn't sure what I would do with it, but for obvious reasons masks are a big deal now, so it got the idea wheels turning. Later that evening, I started doing some thinking and researching face mask shops. At first, I was thinking something like a dropshipping store, but then remembered my relatively unused Amazon affiliate account.
I realized that the easiest way to launching this idea was as an Amazon affiliate store. I had used Pory.io in the past to build out whynocode.com and knew I could get a quick MVP up pretty quickly to test the idea. I also have an account with Table2Site and considered using that.
Services like Pory, Table2Site, and SpreadSimple are perfect for curating a product list into an online store.
However, the more I thought about the idea, the more I questioned the domain name choice, so I did some quick research and ended up buying three additional domain names, themasklist.com, thefacemasklist.com, and facemasklisting.com.
Before I went to bed that night, I had built a simple working prototype of facemaskworld.co using Table2Site.
⏰ Wednesday, September 30th
At this point, I knew I had a workable idea and had worked out how I would build it, but I was back and forth for a couple of days between using Pory or Table2Site. Both are equally suited to the task, but with Pory, I can have up to three sites on my plan, compared to just one on Table2Site. I decided to use Pory and hold my Table2Site plan for another idea.
⏰ Friday, October 2nd
I reached out to a few people on Twitter and the LaunchMBA.co group asking for opinions on the idea and which domain I should use. The results were split between themasklist.com and thefacemasklist.com. I decided to use thefacemasklist.com because I thought it would do better in SEO, having the words "face mask" in the domain name. I updated the DNS records with my domain provider and pointed thefacemasklist.com to the appropriate IP. Gave it some time to propagate, and all was good to go.
Now that I had decided to go forward with Pory and decided on a domain name, the real work could start, curating the face masks on Amazon.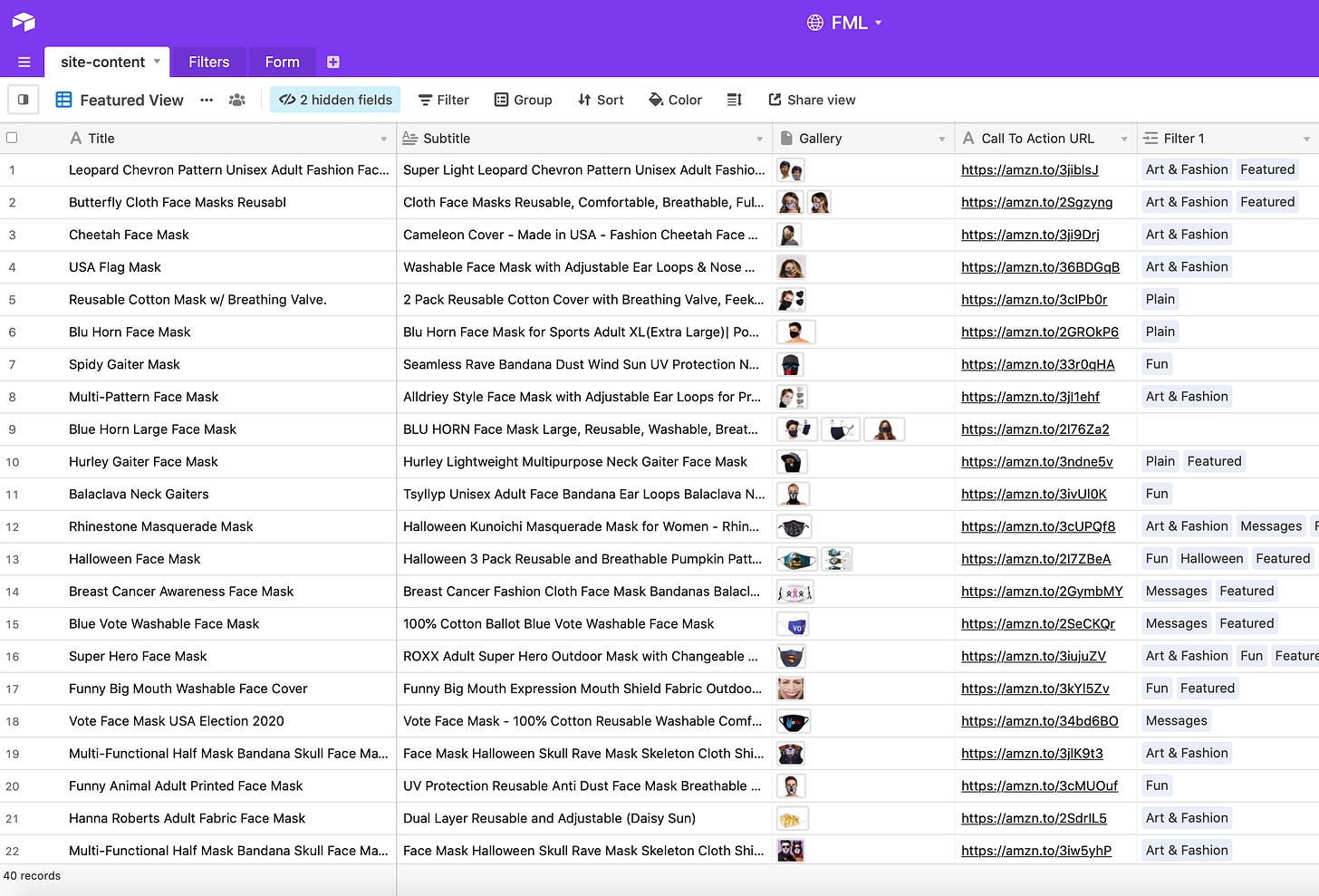 After I created the initial site using Pory (this part is easy with included templates), I turned to the AirTable base created during the Pory site setup. I started adding the initial list of face masks curated from Amazon. Fortunately, the Amazon Associate Program SiteStrip feature (screenshot below) makes getting the affiliate links for each mask very easy. After you set up your affiliate account with Amazon, you can enable the SiteStrip feature, and it will show up at the top of your browser whenever you are logged into Amazon.com. It's super easy to create a link associated with your affiliate id, so when someone purchases after clicking, you get a percentage of the sale.

The best part is, it doesn't matter if they buy your product or not. You get paid for any purchases they make within 24 hours or put something in their cart and buy within 89 days. Percentages range from 1–10%. Not bad, right?
⏰ Saturday, October 3rd
I spent most of Saturday and part of Sunday curating content. Although getting the Amazon affiliate link is easy, creating each listing in AirTable and copying the link, short description, and screenshot of a photo from Amazon takes time when you have to do one at a time manually. The process was tedious, and I kept stopping to do other stuff, then I would come back to the task. This part took longer than I would like.
Moving forward, I want to find a way to automate the process if the idea works out.
⏰ Monday, October 5th
At this point, I was 95% complete. I had a few dozen items listed, each with its own affiliate link, and everything was working well. I shared the link with a few people and got some more feedback. Based on this feedback, I added a "featured" section in the category drop-down menu and l labeled select masks in the AirTable base accordingly.
I then created a Google Analytics ID and pasted it in Pory's appropriate area to get metrics.
⏰ Tuesday, October 6th - Launch Day
Everything was done, the custom domain was working, and the site was up and running smoothly. I announced on Twitter, told some friends, and then waited to see the reaction. Everyone seemed to like the idea, especially how easy it was to spin up using Pory, and considering it only took me a week working part-time, I'd say it was a success. Now, will I make money? That's still to be determined. 😂 Either way, I enjoyed the process and plan to do more of these in the future.
⚠️‼️ Facebook Ads Warning
I ran a Facebook page ad to promote the website. I didn't read in Facebook's ad guidelines about not using ads to promote affiliate marketing sites. Apparently, you can post affiliate links in a post, but you can't promote the sites with ads. Confusing. Anyway, Facebook flagged my ad and has disabled my personal ad account.
I've sent an email to support in hopes they will reinstate it. Hard to believe they shut it down with no warning and no prior issues, but they did, so word to the wise, be careful and don't promote your affiliate marketing websites on Facebook.
🎁 OTB Find Of The Week
This week's find of the week is an AR app from Warby Parker. Augmented Reality (AR) is one of those really cool technologies that's slowly taking off. Unlike Virtual Reality (VR) that replaces your environment, AR augments it by overlaying elements on top. Information, photos, art, directions, etc.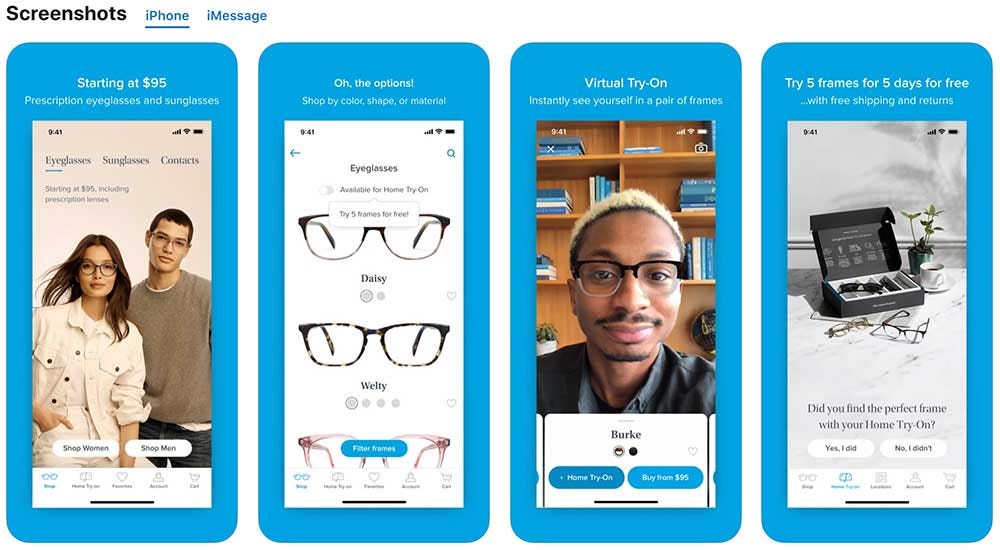 Warby Parker built AR into their eyeglass shopping app, and it allows you to virtually try-on eyeglasses. Nothing revolutionary here, but the tech works really well, and the timing is appropriate, with everyone spending more time at home and online. I definitely think this is the future of shopping online.
🎁 Quote I'm Thinking About
I'm working on building structures in my life that will help me be more productive and live life with more intention. I'm currently listening to Think Like A Monk by Jay Shetty, and the quote below stuck with me. I plan to discuss this book and others more on my upcoming One to Better blog I'm building. Stay tuned.
Location has energy; time has memory. If you do something at the same time every day, it becomes easier and natural. If you do something in the same space every day, it becomes easier and natural. – Jay Shetty, Author of Think Like A Monk
That's all for this week. Hope this issue for helpful. Thank you for subscribing and following. If you like the newsletter, please share it.
Stay positive, and be well. See you next issue. ✌️